Archive for August, 2013
August 19, 2013 @ 11:18 am

It's that time of year again! 
Time to trade the swimsuits and flip flops for backpacks and sneakers, while putting together your back-to-school list; don't forget to include getting your child's teeth professionally cleaned.
There is no doubt that oral hygiene tends to suffer over the summer months so why not start the school year off right by letting us brighten up your child's smile and teach them tools that can help keep their teeth and gums healthy throughout the year.
We understand that the costs of back-to-school shopping can be daunting, that's why for the next 2 weeks we are offering special back-to-school pricing.
The special is as follows, is on a first come first serve basis and is available only until Friday August 30, 2013. These prices are fixed and are 10-30% off the regular rate.
Younger than 5 years – complimentary
6 – 13 (no braces) – $50
6 – 13 (braces) – $75
14 – 17 – $90
All appointments include: Dental Hygiene Examination, full professional cleaning with scaling, polishing and fluoride (if indicated).
Schedule now as these back to school appointments are filling up fast!
Here are a few tips to consider as your child heads back into the classroom:
Pack a toothbrush. Not only does brushing after meals help prevent a myriad of dental issues, it is also imperative in the development of lifelong healthy habits.
 Pack a healthy lunch. This should include something high in protein in order to stave off hunger and unhealthy snacking throughout the day. Avoid sports drinks, energy drinks, sodas, and juices as they have anywhere between 5-12 teaspoons of sugar in one serving, bad for teeth and bad for overall health.  If you want to occasionally add a sweet treat to your child's lunch, try chocolate instead of other candies that are highly acidic and/or are more likely to stick to teeth for long periods of time.

Get a properly fitted sports guard 

Fall is the time for many contact sports both on and off the field. Properly fitting sports guards not only protect your child's pearly whites but can also prevent injuries such as concussions. With a wide range of colors and thicknesses to choose from we can definitely please even the fussiest child!

Always brush and floss before bed. Although school and extracurricular activities are time consuming and exhausting avoid giving in to temptation and passing out without brushing. At night everything that is left on the teeth has a greater opportunity to cause gum disease and decay. This is the most important brushing of the day, ensure it's a full 2 minutes and includes flossing. 
Come in for regular cleaning visits! Maintaining regular dental hygiene visits help to keep your mouth and body healthy. Although we do not diagnose cavities, we are capable of identifying areas of concern that may need to be addressed by a dentist. This is also a great way to encourage healthy habits and gives your child the opportunity to develop a relationship with their dental hygienist at an early age. 
August 12, 2013 @ 10:30 am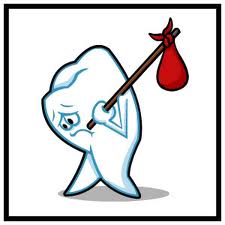 Would you consider "vaccinating" you child against wisdom teeth?
New studies are finding a link between those that have had dental local anaesthetic (freezing) between the ages of 2 and 6 and missing wisdom teeth.
Wisdom teeth generally develop between the tender ages of 2 and 6 and erupt in early adulthood. For children who need fillings during this time of development the space where this tooth is developing often serves as the injection site for freezing. These individuals were 4 times more likely to have missing wisdom teeth.
Thus far, the reasoning is that the needle used for the anesthetic is not much smaller than the cells that would become the wisdom teeth. At this early stage these cells are very vulnerable to trauma and so the needle injures the cells enough to stop the development of that tooth. Studies are been conducted using rats that show that the use of diode lasers may also be able to stop the development of the wisdom teeth.
With sixty percent of chewing done on first molars, and almost all the rest is on second molars Wisdom teeth rarely serve much purpose these days. Yet most people develop at least one impacted wisdom tooth, which can cause issues with bad breath, pain, and infection. For this reason, many dentists recommend surgery to remove these teeth. This surgery can also be painful and comes with its own set of complications.
Is this just a convenient side effect or is it something that should be considered for future generations in order to eliminate the need for extraction of these teeth, which for many is very traumatic. 
This study was done by Tufts University School of Dental Medicine and was published in the April issue of The Journal of the American Dental Association. They by no means advocate using freezing as a preventative measure, but are looking to draw enough attention to warrant more studies which may lead to this type of future "vaccination".
Is this something you wish had existed when you were a kid?
For me having all 4 of my wisdom teeth out was not a terribly traumatic experience, having said that, none of them were impacted so it was relatively straight forward for the oral surgeon. Because my experience was somewhat nonchalant I wonder if the trauma of being forced to have a dental needle as a child would have made me less keen on seeking dental care regularly. These fears often follow people into adulthood and play a big role in their oral health.
Those of you that had bad experiences with your wisdom teeth will of course have a different opinion, I would guess that you would have gladly taken a couple of needles if it meant foregoing the torture of the impending extractions.
The problem is, as it is for anything we are trying to prevent is that we can't tell the future and there are so many variables to consider when making these decisions.
Good news, it will be a long while before this ever becomes common practice so no need to sweat about taking a side just yet. Chances are if this ever does become mainstream they will find something less invasive than a needle – a laser treatment perhaps??
Bad news, because it will be a long while before this ever becomes common practice your children may still need to suffer the same fate you did with regards to their wisdom teeth.
If you want to read more about it check out the following links:
http://www.dimensionsofdentalhygiene.com/2013/05_May/Hygiene_Connection/Local_Anesthesia_May_Impede_Development_of_Wisdom_Teeth.aspx
http://www.incedental.com/portals/dental-health-news-article/articles/2895-nerve-blocks-in-children-may-destroy-future-molars.html
http://now.tufts.edu/news-releases/dental-anesthesia-may-interrupt-development-w