Archive for April, 2014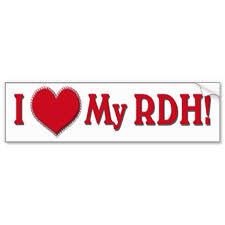 We all love those people around us that care for us, you know, your parents, siblings, spouse, and friends. But what about those people that choose to professionally care for you? Registered Dental Hygienists are just those people! Although there are many reasons for you to love your Dental Hygienists, we thought we would focus on a few that may not be as obvious.
Don't forget to add your own personal reasons in the comments section….don't be shy to mention your hygienist I know she (or he) would love to know they're thought of!
Life-long friend
Your Dental Hygienist can easily be added to the list of people who know you well and look forward to visiting with you. Families tend to zero in on a good dental hygienist and request the same one for years (this is a huge compliment). A dental hygienist may even treat more than one generation.
Many times, a dental hygienist becomes a family friend who knows all about major events in your life. During your visits, you can also expect some good-humored chatting and some well-meaning advice! Dental hygienists often grow into more than just a professional who takes care of your teeth.
A trusting relationship is a two way street, I like when I have reached a point with my clients that I am able to have frank discussions with them about many different topics both personally and professionally.
We Try Really Hard
Whether it's working to make the appointment as pain free as possible or offering advice to better your home care regime, we really do try hard. We are continually learning to keep up with the most modern treatment options and trying to stay ahead of the trends.
I am always appreciative when I patient comments on my effort with regards to noticing their improvement or their lapse of home care. Quite often they are surprised at what I can notice when working on their mouth.
We Help You Stay Healthy
The most important reason to love your dental hygienist is because we help you to maintain your oral health, so that you can enjoy healthy teeth, gums and good overall health throughout your life.
We help you maintain your teeth in a way that you can not do for yourself while providing very useful advise on how you can do a better job of keeping your teeth and gums healthy.
Next time you visit your Dental Hygienist remember that she is a person too, and loves knowing that she's appreciated and valued. Instead of starting the visit with "I hate it here….nothing personal" maybe try "It's so nice to see you how have you been the last few months?" 
Consider us your oral health cheerleaders, always on your side and here to help…..with a smile!!
If you don't love your Dental Hygienist perhaps you should think about trying someone new. Sometimes it's not your fault or hers it's just not the right match. Having someone you feel has your best interest at the forefront and that you can talk to openly is imperative to long lasting oral and overall health.
Remember, you have options, there are plenty Dental Hygienists out there for you to see!