I am back….and so is our office elf
December 3, 2015 @ 6:00 pm
My apologies for not posting for so long, but I am back and will try to keep it short and sweet….and more regular from now on. I'm going to try a new approach to this blogging thing, I think it could be a great way for you all to get to know me and the Dental Hygiene Group a bit better, and know what's going on in the office, also to get my opinion on everyday "stuff". If there is anything specific you want me to touch on please let me know and I will do my best to accommodate! I hope you enjoy the new format. Stay tuned for regular rants.
We have a visitor this holiday season!
It looks like this year the office will have a visitor and we had to give her a name. We have had some suggestions but have decided on Flossie, we hope that you approve!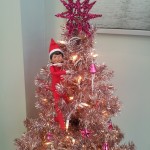 Stay tuned to see what kind of mischief she gets into over the next few weeks