The frustration of booking appointments!
December 10, 2015 @ 5:07 pm
Hi everyone!!
I called my doctor today and hung up feeling frustrated, so I felt the need to vent a bit. I cannot be the only one that is annoyed and angered by the hassle attached to booking appointments!
I hate to admit it, but it prevents me from booking appointments that I need to because the thought of calling the office, being put on hold, and then trying to be nice to a receptionist that is obviously annoyed that I need to work around my schedule as well, come on "work with me lady!" is all I can think.  I do not wake up in the morning wanting to do this, or quite frankly have time for this in my day! More often than not I just hang up while on hold listening to the ridiculous classical music they pump through the phone, to what, try to keep me calm?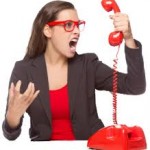 Why can't all places that work with appointments offer online scheduling? This is the biggest reason I chose to offer this to all my patients. I realize the hassle of trying to call during business hours, and since our office is not open on Tuesdays or Wednesdays I thought it best to allow people to do their own bookings. I mean, we're all adults; it's not that hard to navigate the system, and if you book something that doesn't quite make sense, I'll contact you to clarify. It's not rocket science; I just wish other places would get on board!
Thanks for listening; I'm feeling better, maybe good enough to try booking my appointment again, on second thought. I'll wait until tomorrow!
If you want to access our easy online booking system it is available 24/7 at http://dentalhygienegroup.fullslate.com/