November 28, 2014 @ 1:24 pm
We've been aware for quite some time that if you have diabetes you are at a greater risk for gum diseases such as periodontal disease (an infection of the bone and structures that keep your teeth in place), and gingivitis (inflammation of the gums).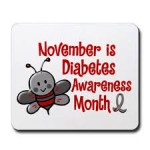 In case there was any doubt about the link between the health of your mouth and your overall health, new studies are suggesting that the connection between oral health and diabetes are not one sided, that they in fact affect each other.
What does gum disease have to do with diabetes?
Gum diseases are infections and like any other infection in the body diabetics have a more difficult time healing from these. People with diabetes are 2 to 3 times more likely than those without diabetes to have periodontal disease, especially if the diabetes is not well managed.
If your diabetes is uncontrolled it may lead to more frequent and more severe infections in the mouth compared to those whose diabetes is well controlled. For many diabetics more frequent professional cleanings help keep gum diseases under control. 

Often the earliest sign of diabetes is active gum disease that does not improve with professional cleaning and strict oral hygiene at home!
But wait, there's more!
More recent research suggests that the correlation between gum disease and diabetes is a two way street. Gum disease can be a factor in causing blood sugar to rise making diabetes harder to control. Having an active infection such as gum disease is never healthy, but it puts diabetics at risk for diabetic complications.
How will I know if I have gum disease?
There are some symptoms of gum disease that you can be on the lookout for such as:
Bleeding when brushing or flossing
Red, swollen or tender gums
Loose teeth
Presence of pus
Persistent bad breath
Even in the absence of these symptoms, though, there may be gum disease present; the only way to know for sure is to see your Dental Hygienist for a thorough examination where she (or he) will discuss the condition of your mouth.
How do I treat gum disease?
The treatment of your gum disease will depend on the severity of the disease, your diabetic condition, tolerance to treatment, compliance with home care etc.
Following an assessment your Dental Hygienist will develop a plan that will help you achieve optimal oral health. A variety of techniques may be recommended, such as professional cleanings, lasers, or specialist referrals. A review of your current home care practices and guidance regarding how to improve and maximize the results should also be discussed.
Remember, what your Dental Hygienist does in the office with you is only half the battle, what you do at home between visits is imperative for treating gum disease and maintaining a healthy mouth.  Your home regime should always include brushing at least 2 times a day, flossing and using an antiseptic mouth rinse. There are other tools available that your Dental Hygienist may suggest as well, be sure to talk to her (or him) about what may be helpful for you to try.
What else should I be aware of?
Periodontal disease and gingivitis are not the only oral problems that diabetics are at risk for. Here are a few other issues that may arise:
Oral infections on tissue such as the tongue, cheek or roof of the mouth
Fungal infections such as Thrush
Poor healing after dental surgeries
Dry mouth
What can I do to prevent gum disease?
Prevention is, and always will be, the best investment you can make for yourself. Preventing gum diseases is not a one-time thing; instead it requires a comprehensive approach that should include:
A good home care regime
Professional dental cleanings at an interval determined by a thorough dental hygiene exam
Keeping diabetes managed through medication or diet
There is strong evidence that proper diabetes control will help protect against many oral health problems including gum diseases. Be sure to talk to your Dental Hygienist about steps you can take to move towards a healthier mouth….the rest of your body will thank you for it!
Want to know if you have or are at risk for Gum Disease?
Book an appointment with our Dental Hygienist for an examination and professional cleaning. Appointments can me made online HERE or by calling the office at 416-799-8344.